TO: ARCHDIOCESE OF PGH AND WPA CLERGY
ARCHDIOCESE OF PGH AND WPA PARISH COUNCILS
ARCHDIOCESAN COUNCIL MEMBERS
ARCHDIOCESAN DEPARTMENT CHAIRS

FROM: ARCHPRIEST WILLIAM J. EVANSKY, CHANCELLOR
______________________________________________________________

Glory to Jesus Christ!
This is to officially inform you that His Eminence, Archbishop MELCHISEDEK has set Saturday, November 3, 2018, as the date of the 2018 Archdiocesan Assembly. This will take place at the Holy Resurrection parish located in Belle Vernon, PA (222 Mary Street). The day will begin with a Divine Liturgy at 9 AM followed by the two plenary sessions. Individuals responsible for submitting reports for this assembly are asked to please forward them to me electronically (This email address is being protected from spambots. You need JavaScript enabled to view it.) no later than September 29 so the reports can be forwarded electronically to the parish priests and parish councils for review in advance of the November 3rd Assembly.

A reminder from the hierarch and the Archdiocesan Council - - lay delegates from parishes in arrears for diocesan assessment payments will not be seated at the Archdiocesan Assembly (or afforded the right to vote) in accordance with the Statute of the Orthodox Church in America and the By-Laws of the Archdiocese of Pgh and W PA (OCA). Please contact Administrative Assistant Omelan Mycyk at the chancery (Tel: 724-776-5555 // Email: This email address is being protected from spambots. You need JavaScript enabled to view it.) should you have any questions about your parish's assessment status; if necessary, he will forward your question to Archdiocesan Treasurer Alexis Parshook.

Thank you.

In Christ,

Fr. Bill
PS: The minutes of 2017 Archdiocesan Meetin can be found here.
The pan-Orthodox parish picnic will be held on Sunday, September 23, 2018, at Moraine State Park, McDaniels Boat Launch Pavilion #7", North Shore Entrance. Divine Liturgy will be celebrated at 10:00 AM!
St. Andrew's Church will be the host on this occasion and, locum, Archpriest Keith W. Lowe, M.Div., will be the principal celebrant.

We encourage everyone to stay after Liturgy to enjoy a Pot-Luck Picnic. Main dishes (meats) will be provided...we're asking attendees to please bring a side dish or dessert of your choosing to share.
Come join us for a great day of fellowship!

NOTE: There will be NO DIVINE LITURGY AT ST. ANDREW'S on September 23, so, please make the short drive north and join us at Pennsylvania's beautiful Moraine State Park!!
The Parish Council which would otherwise meet on September 6, 2018, will be held at 6:30 PM on Thursday, September 13, 2018.
Help is needed on a weekly basis to provide SHOPPING TRANSPORTATION for His Eminence in Cranberry beginning September 1. This takes an average of two hours weekly. Assistance is needed and any interested person should contact Fr. Bill Evansky to discuss remuneration and other details.
Fr Bill can be contacted at (724) 266 5009
Email: This email address is being protected from spambots. You need JavaScript enabled to view it.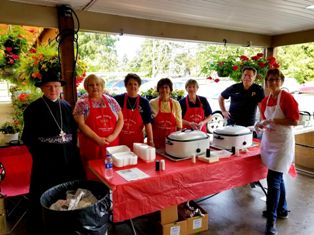 The parish will be selling Halushki, Kielbasa and Sauerkraut at the Butler Farm Market, 901 Evans City Rd. Renfew, PA (Rt. 68), on Saturday, October 6, 2018 from 9:00 AM till sold out.