History
St. Andrew Orthodox Church, like many Orthodox churches in North America, traces its origin to the massive influx of immigrants from Eastern Europe to Pennsylvania in the early twentieth century. Most founders of St. Andrew had come from the Western portion of the Austro-Hungarian Empire. Religious freedom as well as economic opportunity motivated many in the move. Originally, most had been farmers, but in the new world coal mines and steel mills provided employment.
In 1906, the Russian Mission sent Rev. Philip Sradanovich to serve the Orthodox faithful of Lyndora. Eventually, in 1914 the Russian Orthodox of Lyndora laid the cornerstone for the present church on Penn Avenue.
From the records of church meetings in the early years, one can learn at least some of the names of the founders of the parish. These include: Ignatius Budrevish, Michael Savochka, Michael Moroz, Ivan Hollak, Sam Musko, Thomas Merlak, Theodore Blisak, Andronik Shajnovich, Wasil Fecich, Zenovy Prichodko, Yevdokim Gulevich, Harry Sukovach, Stephen Berdey, John Blisak, Ivan Pavlukovich, Luka Homich, Paul Voytulevich, Theodore Feloniuk, Mark Dubik, Theodore Hollock, Harry Kraustock, Klem Lokovich, Ivan Sverdeskie, Sergius Sawchuk, and Wasyl Turach.
The influenza epidemic of 1917-1919 took a toll on parishioners. The depression following the First World War brought hardship. Nevertheless, mortgage payments on the church were met. In 1934, the Russian Orthodox Youth club was organized to assist the church, financially and through work projects.
In 1936, the Sisterhood of the Altar was established for the purpose of beautifying the church and caring for liturgical objects. Over the next seventy years, the Sisterhood would become important for its fund-raising activities such as bake sales, candy making and pierogi making.
In 1940, Sunday school was established for the instruction of young people in the Orthodox faith. Beginning in the 1950's, the English language was gradually introduced and came to replace Church Slavonic in liturgical services.
In 1976, our church altar was consecrated with relics of St. Herman, the Wonderworker of Alaska and America. Later that year, Rev. Fr. Joseph Wargo was assigned as a new priest for St. Andrew Orthodox Church and served the parish for the next forty years before he retired on 9 October, 2016.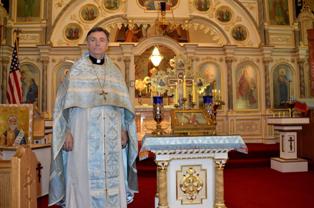 St. Andrew has undertaken projects to benefit the community and to show the spirit of Orthodox Christianity in love and fellowship. Our goal as a church is to increase church membership through evangelization in our community to bring Holy Orthodoxy to others.