North Side Cemetery was established in 1800. It is a privately held company incorporated in Pennsylvania.
The granite North Side Cemetery Altar is in memory of the Botzchea family.
Prokop 'Mike' Botzchea was born 8 November, 1885 in Zenivja, Poland to Tikhon Botzchea (mother's name not listed). He married Anna Kott in Zenivja, Poland on 15 May 1912. Anna was born 20 June 1892 in Zenivja, Poland to Tichon Botzchea and Valentina Kott.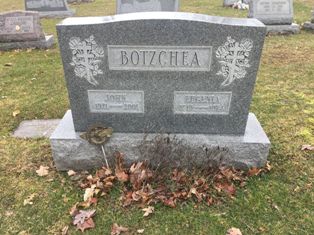 Prokop arrived in the United States via NY,NY 29 November, 1912. Anna and daughter Marie arrived in the United States via NY, NY 21 May, 1914. Prokop retired from Armco, was a member of the Armco Veterans Club and was a member of the St Basil's Brotherhood. Prokop passed away in 1966 and Anna in 1982. They were buried at North Side Cemetery.
Prokop and Anna had 6 children all born in Lyndora: Maria, Anna, Fred, Anastasia, Olga and John. Two of their children passed away as infants. Maria was 11 months old when she arrived with her mother 21 May, 1914 and passed away the same year. Anastasia was born c1918 and passed away in 1918.
Anna was born in 1915 married a Konoval. She worked for the G. C. Murphy Company Department Store and at the Sunnyview Nursing Home. She belonged to St Andrew's Sisterhood of the Altar and was a member of the Lyndora American Legion Post 778 holding the offices of president and secretary during her 50+ year membership. Anna passed away in 2003.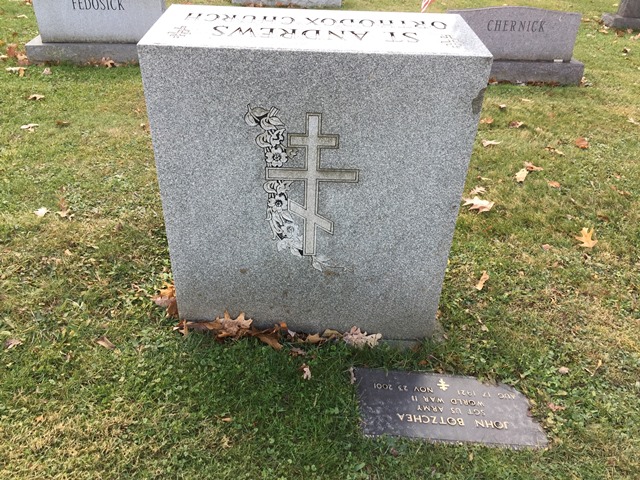 Fred was born in 1916. He tragically passed away in 1926 at the age of 9 from injuries sustained from being struck accidentally by an automobile when he darted into the street while playing.
Olga was born in 1919 and married William A Stephens. She served as a First Lieutenant in the Army Nurse Corps during WWII. She passed away in 1986 and was buried at Ft Logan National Cemetery, Denver, Colorado.
John was born in 1921 and married Eugenia Jane Zmijowski 2 January, 1950. Eugenia Jane was born 18 July 1918 to Wawro Zmijowski from Benewa/Byeneva, Galicia/Ukraine and Mary Levitsky from Bohatkivtsi, Galicia/Ukraine. She was a floor supervisor at the G. C. Murphy Company, a member of the Lyndora American Legion and a member of St Andrew's Sisterhood of the Altar. Eugenia passed away in 1974.
On 5 October, 1975 John married Sophia L Smith. She was born 24 February, 1924 in Butler to Paul Ligashewsky and Anna Kolodji from Austria.
Sophia's first husband, Daniel Smith Sr, died 17 March, 1973. She was a member of St Andrew's Sisterhood of the Altar.
John served in the Army during WWII. He was a supervisor for Sultronics equipment manufacturer in Pittsburgh until retiring in 1969. He was a member of the American Legion Post 778 in Lyndora and the Highlfield Community Center. John passed away in 2001 and Sophia in 2005.
The altar was created by the Sechler Memorial Company.
The Sechler Memorial Company was started in the 1880's and was located at 212 North Main Street, Butler PA. Around 1914 the Sechler family moved their operation to 219 West Jefferson Street which is the location of the current monument display and shop. The Sechler family maintained the family operation until 1968 when Wendall Sechler sold his business to Logue & Son Memorials.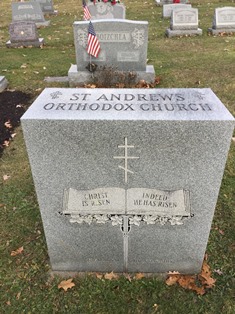 Logue & Son Memorials was started in 1896 and has been a family owned and operated business for five generations. It is currently owned by L. Dana Logue Jr., and L. Dana Logue III, the fourth and fifth generations of the family. They design and engrave the memorials at their Sligo PA shop.
This article was written by
Photography by Joyce Salak.