ELLWOOD CITY, PA [OCA]
Archimandrite Pitirim [Stehnach], 90, fell asleep in the Lord on the evening of Wednesday, July 10, 2019.
Archimandrite Pitirim was the parish priest of this parish from 1968 to September 14, 1976.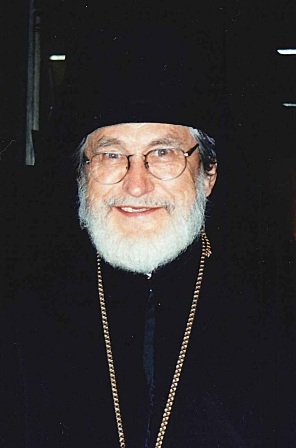 Born in Conemaugh, PA on August 15, 1928 to the late Michael and Mary [Glova] Stehnach, he was the sixth of nine children. He served for seven years in the US Navy and Marines, after which he attended Saint Vladimir's Orthodox Theological Seminary, New York, NY. He was ordained to the diaconate by Archbishop Ireney on December 4, 1962 and to the priesthood by Archbishop Sylvester on April 27 of the following year. On October 14, 1966, he took monastic vows. He was elevated to the dignity of archimandrite on the 25th anniversary of his ordination to the priesthood.
Father Pitirim faithfully served parishes of the Orthodox Church in America for over 50 years in New York, Michigan, Pennsylvania, and Ohio. He also served as personal aide and driver for Archbishop Kyrill of Pittsburgh and Western Pennsylvania for over 20 years. After retiring on his 85th birthday in 2013, he attended divine services at the Monastery of the Transfiguration, Ellwood City, PA and Saint Elias Parish as his health permitted.
He is survived by brothers Paul and Steven Stehnach and several nieces and nephews, as well as numerous spiritual children. He was greatly appreciated for his practical and loving spiritual guidance.
Sadly his younger brother, Nicholas, aged 88, died a few days before Fr. Pitirim on 7 July, 2019, and will be buried in St. John the Baptist Parish cemetery Conemaugh, PA., on July 13, 2019, his obituary can be found here https://www.hendersonfuneralhome.com/notices/Nicholas-Stehnach
Visitation will begin at 4:00 p.m. on Sunday, July 14 at the Monastery of the Transfiguration, Ellwood City, PA. The Funeral for a Monastic will follow at 6:00 p.m. The Divine Liturgy will be celebrated at 10:00 a.m. on Monday, July 15, followed by interment in the monastery cemetery.
May Father Pitirim's memory be eternal!
[Source: OCA News]
The parish council scheduled for 11 July, 2019, has been cancelled.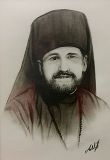 Very Rev. Archimandrite Pitirim (Stehnach) was the parish priest of this parish from 1968 to 14 September, 1976 and his health is failing. He is 90 years of age. A communication received today from the chancellor, Very Rev. William J. Evansky, of the Archdiocese of Western Pennsylvania advised the following:

"With the permission of his family, I want to give you an update concerning the health of Fr. Pitirim. Due to significant health issues recently, he has been moved to:

Rhodes Estates - Room 206
318 Rhodes Place,
New Castle, PA 16101

"Please keep him in your prayers; cards are welcome; personal visits are fine as well (but bear in mind to keep the visit duration rather short so as not to tire him out)."
Saturday, 17 August, 2018, at 10:00 AM

Stoughton Acres Golf Course,
904 Sunset Dr, Butler, PA 16001, USA

Entry fee: $55.00, (includes green fees, cart, lunch & dinner).

For dinner only fee: $10.00
Dinner will be served at approximately 5:00 PM at Ukrainian Hall, 21 Evergreen Road, Lyndora, PA
Deadline: August 4, 2018. Make cheques payable to Rose Raith, (724) 282 3191, 115 Shawnee Drive, Butler, PA 16001

For more information: Frank Hawryliak (724) 287 7826
The events flyer can be found here
This Sunday, June 9, 2019, the parish celebrates the Class of 2019 high school graduates from this parish. This year our graduates are:
Ethan Daller & Samuel Enslen both of Butler High School, Butler, Pa.
Ethan T. Daller, is a fourth generation member of St. Andrew Orthodox Church, Lyndora, a son of Lyndora who was born in Butler, PA, and is one of three sons and was baptised at St. Andrew's and has served continuously at the altar since he was about five years of age. As such he is a 'Gilleaindreas' - literally a servant of St. Andrew, Scotland's patron saint, the patron saint of sea farer's and proto-martyr of Russia (proto—meaning the first of their martyrs [Russian considers St. Andrew as their first martyr]). Ethan Will be attending Kent State University, Ohio, in the Fall of this year.

Samuel Enslen, is a third generation son of this parish who was born in Pittsburgh, PA., and baptised at St. ANdrewas and in his junior years was an altar server. Samuel will be attending Slippery Rock University, Slippery Rock, PA., in the Fall.

We wish both graduates the best and God's blessing upon them in their studies.
Many Blessed Years to Ethan & Samuel!